ห้องอาหารอีสานเขียวเป็นร้านอาหารอีสานร้านแรกในกรุงลอนดอน ที่ได้รับการยอมรับจากชาวไทย และชาวยุโรป ในความเป็นเจ้าตำรับอาหารภาคตะวันออกเฉียงเหนือ ร้านอาหารของเรา เปิดบริการมาตั้งแต่ปี ค.ศ 1992 ทำให้เรามีความเชี่ยวชาญด้านอาหาร และความเชื่อมั่นของลูกค้า เรารับประกันการอิ่มอร่อยทุกมื้อของลูกค้า ด้วยเมนูอาหารที่หลากหลาย ส้มตำ (Papaya Salad) คือ อาหารหลักของชาวอีสาน ตลอดจนภูมิภาคอื่น ๆ ซึ่งเราได้นำลงในเมนูให้ลูกค้าได้เลือกชิม ทั้งตำไทยและตำตามแบบฉบับของชาวอีสานโดยตรง หรือที่เรียกกันอย่างคุ้นเคยว่า "ตำอีสาน" ซึ่งอาจจะมีรสที่เผ็ดนิด ๆ ทั้งนี้สุดแท้แต่ลูกค้าจะเลือกรับประทาน ข้าวเหนียว (Sticky Rice) คืออีกเอกลัษณ์หนึ่งของอาหารชาวภาคตะวันออกเฉียงเหนือ ผู้คนส่วนใหญ่ปลูกข้าวเหนียวไว้รับประทานเอง ส่วนข้าวมะลิหอมนั้น ปลูกเพื่อการพาณิชย์หรือขาย นอกจากตัวอย่างที่นำมากล่าวข้างต้นแล้ว เรายังมีเมนูอีกหลายอย่าง ซึ่งเตรียมพร้อมและคอยสำหรับ การเลือกซิม เช่น เสือร้องให้ ต้มเครื่องในวัว ไก่ย่าง เป็นต้น ทางเราบริการพิเศษสำหรับเพื่อน ๆ คนไทย เครื่องดื่มที่หลาย ๆ คนชื่นชอบตั้งแต่อยู่ประเทศไทย เช่น โอเลี้ยง กาแฟเย็น ชาเย็น เป็นต้น เราก็ได้จัดหามาไว้บริการลูกค้า ฉะนั้น เราจึงมีความเชื่อว่า
คุณ ๆ จะไม่ผิดหวัง แม้จะอยู่ในต่างแดนก็ตาม แต่เรา… ทำได้. (อย่าลืมเด้อ)
Once upon a time, a long time ago, Mr Puntar was living by the paddy fields in the Northeast of Thailand. (Ubon Ratchathani Province). Around 1968 Mr Puntar became a member of the "Bangkok Officer Open Mess" in the "Chao Phraya Hotel" in Bangkok. His position was an assistant cook where he learnt the basics of being a good chef. In 1974 he applied for work in England to work with the "Trust House Forte Hotel LTD".
By September 1974 he was able to come to England to work at the "Imperial Hotel" in Torquay, Devon. This was his first job abroad as a Chef. After two months, he transferred to work at the "Kensington Close Hotel" in central London as a sauce chef. During his time there he was able to work with different tools and learnt different skills. In 1977, he filled out an application to work at " Intercontinental Hotel", Park Lane. His application was accepted and this was where his career as a professional chef began. He started as a demi chef de party and after one year, he was promoted to a chef de party. Soon after, Mr and Mrs Puntar married and Mrs Puntar followed her husband to England to pursue his career as a professional chef. While in Thailand Mrs Puntar was a teacher and learnt all her cooking skills from her mother and sisters.
By July 1987, Mr Puntar received an "Outstanding Employee Award." Because of his hard work he was promoted to sus chef. This meant responsibility and teamwork. He worked at "Intercontinental Hotel" for sixteen years as a sous chef. Meanwhile, Mrs Puntar was the chef at home. She would often cook for friends and family hosting regular dinner parties. She was always complimented on her amazing food and hospitality.
In 1992, after many years of perseverance and patience, Mr and Mrs Puntar finally opened their very own restaurant which is known to you as "Esarn Kheaw".
In 1993, Mr Puntar resigned from "Intercontinental Hotel" to continue his responsibility within his family business. Mrs Puntar has taken the role of head chef at "Esarn Kheaw". Together they created all the recipes on our menu for you to enjoy, which reminds them of their childhood in Ubon, Thailand.
Expect to see a new generation of Puntar's continuing the family business to keep your bellies happy and our family recipes alive.
*All discount offers are applicable to tables with a maximum of 4 people | Only one offer can be used at a time | One discount voucher per table/take away order | Management have the right to refuse use of offers at anytime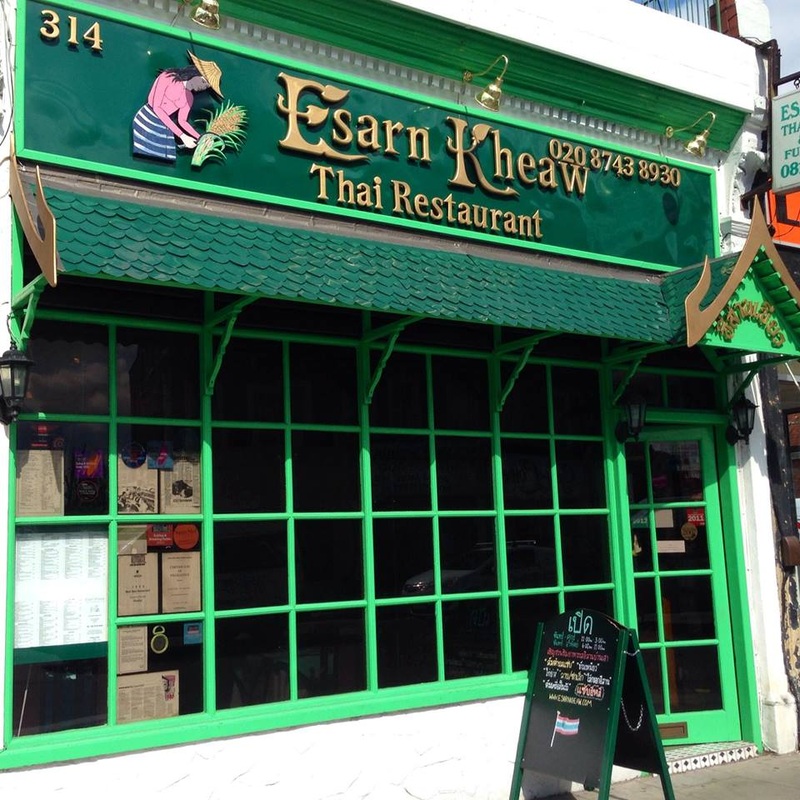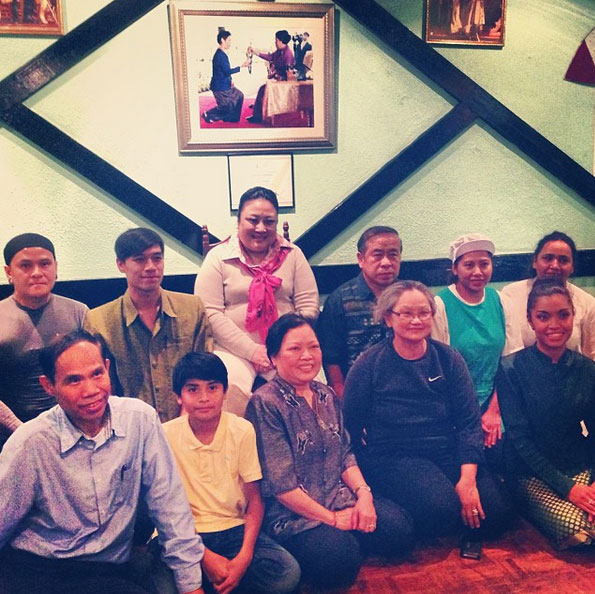 "The staff was incredibly friendly and everything we tried was really tasty!
I especially liked the son in law eggs and the Penang chicken curry. And I loved their Thai ice tea. If you never tried it, I would highly recommend it. They have a version with milk, black or with lemon."
Sophie





"Monks visited for a Bhuddhist ceremony. The food and service were top class. I can only say that we eat Thai food almost daily so can be critical. This restaurant serves original and well prepared food that's easy to recommend."
Robert





"Probably the best Thai food in London in-term of authenticity, fresh ingredients and fantastic price range. I came here over the years, and the price wasn't much different from 10 years ago. They love what they are doing, and they passion about giving you great food regardless of how the inflation works!! Try it, and you will love it ❤️"
Y M





"My in-laws came over from Hong Kong and we took them to eat at Esarn Kheaw. We ordered quite a lot of food and they were delicious. My son enjoyed the Pad Thai noodles so much, he said it's one of his favourite which he will be ordering again next time. My in-laws loved the prawns green curry and Tom Yum soup.
The staff were very friendly and good service! Thank you much, we really enjoyed our evening."
Mary
Address
314 Uxbridge Road, Shepherds Bush, London, W12 7LJ
Contact details
Telephone: 020 8743 8930
Opening Hours
Mon – Sat: 5pm – 10pm (Eat-in & take away)
Sun: Closed
We cater for large home parties, birthdays, weddings, wedding receptions, christenings, BBQ's… all celebrations. Call us on 020 8734 8930 for more information.